Sometimes, deciding how to decorate your latest tasty baked creation with fondant icing can be tricky. When you're presented with a blank canvas your mind can struggle to find come up with the goods. Even when you have a particular occasion it can turn into a creative nightmare.
Fortunately Christmas is one of those events that is wide open for inspirational decorative ideas. There are all kinds of different images associated with Christmas: snow, holly, Father Christmas and presents just to name a few. With all these options on the table you can take your pick to create some amazing Renshaw fondant icing decorations themes.
But sometimes you can have too much of a good thing and too many options results in making decisions too tough to make. If you want to know what to do with all that fondant icing sitting on your work surface, here are three yummy, Christmassy fondant icing decoration themes.
1.

Snowman Christmas Cake. Spruce up your plain old Christmas cake with this cute snowman motif. Everything on the cake is made with fondant icing, and although it takes a steady hand to get some of those little details like the scarf fronds and holly leaves just right, it's not out of reach for most of us. The bold colours make the cake come to life and will draw your guests around the table while they wait for a slice. The composition is beautiful too, with the snowman off centre and grinning at you against a perfect starry winter sky.
2.

Snowflake Cake. We'd all love a white Christmas wouldn't we? And who knows maybe this year we'll be in luck. But if fate doesn't favour us why not create your own magical winter wonderland like this striking snowflake cake. What's great about this theme is that you can get snowflake cutters to do the hard work for you. Simply roll out some white fondant icing and press the snowflakes out. That takes away the stress of trying to hand-shape them.
3.

Christmas Pudding Biscuit Pops. You don't have to use fondant icing on cakes. It's an incredibly versatile product, and because it also tastes good it makes for great decorations on biscuits and cookies. These lovely Christmas pudding biscuit pops will go down a storm over the festive holiday period. You'll need to fix the fondant icing to the biscuit using some cooled boiled water. The holly leaves can be made with a cutter, but why not make them freehand for a bit of a challenge.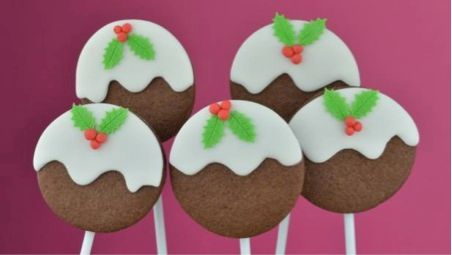 source: Renshaw baking
Remember Christmas is a time of fun and frivolity, so don't get too stressed out choosing your decoration theme. Hopefully these options will give you some food for thought. Merry Christmas!