Whether it's chunky chips, chip shop chips or French fries, a plate of Britain's favourite staple will always make your mouth water. Unfortunately, they're also pretty bad for you, and this is something that many of us have been struggling with over the last few years. We all love fried goods, but we now have to accept the fact that scoffing chips everyday probably isn't the best way to stay healthy.
Even if you aren't particularly fussed about healthy eating, chips aren't necessarily going to win you the thousand pounds on Come Dine With Me. So why not try and win your dinner party guests over with some unexpected alternatives?
Ideally served with something like steak, avocado chips are crunchy on the outside and creamy and nutty on the inside. Making them is also really simple. Mix some flour with a little salt and then dip the avocado chips in it, shaking off the excess flour.
Beat two large eggs and place them in a shallow plate with some breadcrumbs, and then dip the flour-coated avocado chips into the mix. Fry them for around a minute, until they are golden. Sprinkle with salt and you're ready to go.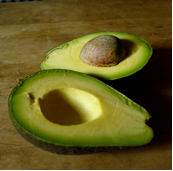 Hot Mozzarella Sticks
This is perfect finger food for parties. Try baking them to keep those on a health kick happy. They will taste just as good as fried mozzarella sticks. Simply freeze the mozzarella chips first, then whisk an egg in a bowl and place some flour on another small dish or shallow plate. In a separate bowl, combine breadcrumbs, Parmesan cheese and dried parsley.
Retrieve your frozen mozzarella sticks and dip them into the flour, then into the egg, and finally coat them with the crumbs. Place them on a tray with a baking sheet, drizzle some oil on top and bake them in the oven at around 200°C for up to five minutes. Don't forget to turn them! Remove when crisp.
If you've run out of time and you really don't want to resort to buying chips, you could always buy croquettes to provide some stress-free, tasty party food for your guests. Check out McCain.co.uk to see McCain's tempting chunky croquettes.
Baked Broccoli Chips
Who said broccoli couldn't be fun? This is a great way to save those broccoli stems that no one ever wants to eat. Pre-heat your oven to around 175°C and slice the broccoli stems into thin coins. Whisk an egg with some milk in a small bowl, and then dip the broccoli coins into the mixture. Mix breadcrumbs with salt, onion powder and cayenne pepper for a little extra kick. Coat the coins in the breadcrumb mix.
Place them on a baking sheet and bake for around ten minutes, until golden, and the broccoli chips should be tender and fragrant. You could also fry them if you prefer.
Let's not kid ourselves: it's hard to find a perfect substitute for chips. You're always going to miss them. But with these recipes, you should miss them a little less, and perhaps appreciate chips that little bit more the next time you have them!